What is TRIO?
It's a traveling exhibit of art, music and literature that celebrates the inspirational power of great storytelling. First conceived by Shari Smith of Working Title Farm, and a writer and singer for "The Shoe Burnin' Show," TRIO is a testament to the way words, music and art can come together around the power of a single story. Each TRIO starts with a book, which is given to a musician and a visual artist, who then write a song, a piece of music, a work of art inspired by the story.
The 2017 TRIO exhibit debuts September 16 at the SIBA Discovery Show in Savannah, GA, and then travels around the South for the next twelve months, hosted by and sponsored by SIBA member bookstores.
---
Trio's creator is Shari Smith, whom editor Joe Formichella called "the mad Dr. Frankenstein" behind the anthology and cd, The Shoe Burnin', Stories of Southern Soul, and the script writer and mother hen of the stage production, The Shoe Burnin' Show, a combination of literature and music that changes with every performance, defying description and delighting audiences.
The River Witch TRIO
Inspired by Kimberly Brock's novel THE RIVER WITCH, an original piece of art and songwriting came together to make an unforgettable TRIO.
Textile Artist
Katrina Perdue has been a knitter since discovering the craft in her early college years. What began as a creative outlet has transformed into a much deeper passion — a way of processing life and connecting with others beyond verbal conversation. A background in sewing and a lifelong love for textiles has helped to broaden her work as a fiber artist, while her most recent achievement of becoming a certified knitting instructor through the Craft Yarn Council's Instructor Program has allowed her to teach others the skill through a more structured approach. 
Katrina was born and raised in the MidWest, spent several years living in the MidAtlantic, and currently lives in Memphis — the heart of the MidSouth — with her three wildly creative daughters.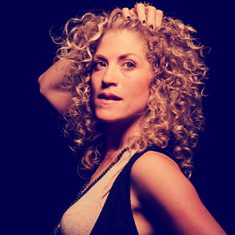 Vocalist, songwriter and performer, Sarah Aili has spent more than half her life on the stage. The first two thirds were spent on her home coast in Northern California where she studied theater, music, dance and began a professional career as an actor/singer. She then set out for New York City to "pound the pavement", she was in and out of rehearsal halls, audition lines, black box theaters, stage doors and subway stations. After writing and performing her first solo show in New York City, Sarah got the bug for stepping out from behind other's words and stepping into her own. She picked up her guitar and hasn't put it down since. Currently Sarah finds herself settled in Nashville, TN where she's made a blissful balance between her love for writing and performing. Sarah recently released her third album, "SESSIONS", and is currently in collaboration on a number of projects including a stage musical, Box Of Letters. www.sarahaili.com